What if graffiti was seen as a commodity instead of criminal?
Love it or hate it, public perception of graffiti and street art has been undergoing a shift. Cities around the world are recognising the economic benefit street art tourism can bring to a region.
While many people may immediately think of Melbourne's Hosier Lane when it comes to street art as tourism in Australia, regional cities in Queensland are also starting to see the opportunities.
In 2014, Toowoomba Regional Council sponsored the city's first three-day street art festival which has turned into an annual event showcasing contemporary public art, leaving a legacy of artwork on the city's walls.
Similarly, Townsville City Council has recognised the role street art can play in creating a vibrant urban environment with their Street Art Activation Framework, and has produced a Street Art City Walking Trail map to guide locals and tourists to each piece.
Cairns Regional Council is yet to embrace urban art as Toowoomba and Townsville have done, but that doesn't mean the city is without a street art scene.
The distribution of Cairns' graffiti and street art subcultures has been mapped as a part of Hansley Gumbaketi's Bachelor of Planning (Honours) thesis.
For Hansley, graffiti is a part of a city's dynamic and the way its living spaces are used.
"The graffiti and street art speak louder to me than anything else," he says. "I am really interested in people and how the politics of space plays out, so naturally, the acceptance or tolerance of that which is 'street art' and 'graffiti' fascinates me."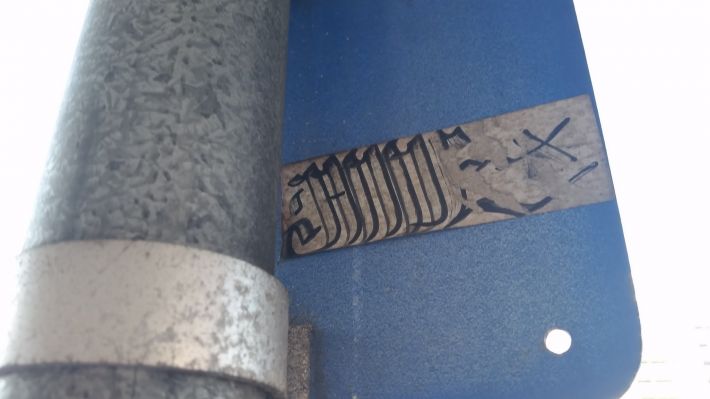 He found that Cairns is home to a wide variety of graffiti styles including tags, throw-ups, stickers (slaps), pieces and murals, and the location depended on the time the graffiti writer or artist needed to produce the work.
"The specific location chosen by the writers, taggers, and slap artists all seemed to be relative to the time spent working on them," he explains. "An intricate piece that needed more time spent on it would naturally relegate that type of marking to be placed in a specific location that did not have many intruders."
Although many people consider street art and graffiti as a negative, Hansley sees it as something cities can take advantage of.
"I see both graffiti and street art as a cultural asset for communities," he says. "Not just because it is its own artistic phenomenon but because people travel the world to see unique things like that, think of Melbourne, New York, London, even Toowoomba."
Hansley admits that one of the barriers to embracing graffiti as an urban art is community attitude, which he feels can be hypocritical, given how prevalent advertising is.
"Maybe I have been desensitised to the perceived ugliness of it all but I see it as a natural part of the urban environment, just like road signs and intrusive advertising," he says. "The same people who are ok with having pervasive advertising thrown at them on the streets are the same people who complain that graffiti should not be on the streets too."
Another difficulty is navigating and evolving the Cairns Regional Council's attitude towards the graffiti.
"The councillors have no idea what to do about it," Hansley says. "That is not a criticism on their part, but they have no clue how to utilise it for the benefit of the community or start a constructive conversation around it. It is difficult to gain an appreciation for something that has a history of being labelled as an act of vandalism and criminalised as such."
Graffiti and street art is also more than the physical result painted on a wall. It has its own intricate subculture which Hansley's thesis helped give him an insight into.
"The subculture plays its own politics of space," he explains. "Not just anyone can put up a piece anywhere and not just anyone can tag anywhere or they'll get capped (crossed). You see this subtly in the landscape but you have to know what to look for. So that whole subculture, too, fascinates me about the world of street artists and graffiti writers."
Despite the subtle rules of the subculture, Cairns' graffiti artists and writers are not only local people.
"Cairns is one of those really weird geographies in Australia, let alone the world, where the community is so transient and fluid meaning different people come and go easily leaving their mark," he says. "Writers and street artists have visited and collaborated on pieces with locals, so that in itself brings value to the range of pieces we have in Cairns.
"On top of that tourists do travel around taking photos of these pieces."
Therefore if the subculture is already present in Cairns, what needs to be done to turn graffiti and street art into a commodity?
"That is the beauty of it, you can't force these things to happen," Hansley explains. "Street art can be commissioned and painted on a wall or inside a shop but when you want organic graffiti, the stuff that is changing every week and making a space dynamic – the stuff that really attracts the creative mind – you have to just let it happen."
From there, the council can look into developing strategic objectives and turning it into something which can be sold as a cultural asset, which will help make it an acceptable part of the community.
"Value can then be gained by registering sites that have the most ornate piece as a cultural asset then, just like Melbourne has done with the laneways, sell it as part of the diverse fabric of the community," Hansley says.
Hansley Gumbaketi's Graffiti and Street Art on the Margins: Mapping a marginalised urban subculture in Cairns, Far North Queensland, Australia, was his thesis for his Bachelor of Planning (Honours).
Cover image: Hansley Gumbaketi
Published 4 Jun 2020
Share this story: