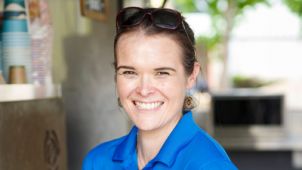 College
College of Business, Law and Governance
Educating for change
Want others to care about the Great Barrier Reef as much as you do? Frustrated when people keep doing things to harm it? Talk to them in language they understand.
There are various ways to change someone's behaviour.
You can change the law. But that's never popular and it takes a long time.
You can educate. Which can go part of way, but it's not sufficient for behavioural change.
You need to persuade them that they can change every-day behaviours and, in the case of environmental problems, that individual actions can collectively make a difference.
Enter Professor Lynne Eagle.
Lynne researches and teaches social marketing at JCU, and provides social marketing expertise in the areas of health and the environment.
"Social marketing is a set of approaches that focus on voluntary behaviour change," she explains. "Looking at the problem from the perspective of the people whose behaviour we're trying to change and what barriers might exist – and what things might help behaviour change to happen."
Not to be confused with social media, although it may use social media as a tool, social marketing is a behind-the-scenes process which works with people, organisations and the government to persuade people and organisations to make voluntary changes in behaviour.
One of the key barriers to overcome is communicating the issue in ways that make the issues relevant to the targeted people. Some solutions to this include using language they understand and talking with them, not at them. Co-creating solutions with people is often the most successful way of achieving long-term behaviour change.
"None of us like being told what to do and we tend to resist being told," Lynne says. "We might even agree with what they're trying to do, we just don't like being told."
Working together
Given that social marketing is about persuasion and behavioural change, can it be leveraged to save the Great Barrier Reef?
It can help, but it can't do it alone. It needs to work alongside environmental scientists and a range of organisations.
"We're dealing with the human factors," Lynne says. "What we can do is influence people's behaviour in terms of things that will impact the Reef. This can range from reducing the amount of plastic waste that ends up on the Reef to working with land managers to minimise the impact of pesticide, fertilisers and sediment that get into waterways and then into the ocean."
Part of the difficulty is that saving the Reef is a wicked problem with many complex elements involved in finding a solution – similar to the issues with tackling climate change.
"Climate change is classed as a super wicked problem because time is running out and there's no one organisation that has overall responsibility," Lynne explains.
"The Reef is in much the same sort of situation but if we want people to act, we need to show them that individual actions can make a difference and give them practical options for how they can help."

Professor Lynne Eagle
As a career, social marketers can work in academia as researchers or they can go into practice as a consultant and potentially work all over the world.
"We could do with a lot more social marketers, both in Australia and internationally," she says. "It's more rewarding than anything else I have done. I have worked on a diverse range of projects over the years, from health-related projects such as reducing skin cancer rates and the effects of passive smoking on children to the acceptance of renewable energy and wider environmental protection problems."